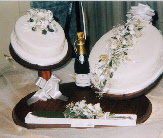 Congratulations Catering
Cakes & Buffets
15 OFFHAM ROAD, WEST MALLING, KENT, ME19 6RB TEL/FAX 01732 872878
CUSTOMER NAME___________________________ DATE__________________
Charge per item Replacement Cost Quantity
Cup & Saucer 10p/10p £1.50/£1.50 ________
Side Plate 10p £1.50 ________
Dinner Plate 10p £2.00 ________
Dessert Bowl 10p £1.75 ________
Glass Cruet set 30p/30p £2.00/£2.00 ________
Glass Butter Dish 50p £3.00 ________
Glass Water Jug 50p £3.00 ________
Punch Bowl & Ladle £2.00 £25.00 ________
Punch Bowl Cup 20p £1.50 ________
Soup Tureen £2.00 £25.00 ________
Dinner Knife 10p £1.00 ________
Dinner Fork 10p £1.00 ________
Soup Spoon 10p £1.00 ________
Dessert Spoon 10p £1.00 ________
Teaspoon 10p £1.00 ________
Serving Spoons 20p £1.50 ________
Gateaux Slice 30p £3.00 ________
Cheese Knife 25p £3.00 ________
Salad Servers 30p £4.00 ________
Serving Tongs 30p £2.50 ________
Paris Goblet 10p £1.30 ________
Champagne Flute 10p £1.40 ________
Straight ½ pint 10p £1.30 ________
Pint Glass 10p £1.30 ________
Sherry/Port 10p £1.50 ________
Tea Pot £1.00 £25.00 ________
Coffee Pot £1.00 £25.00 ________
Sundae Dish 10p £2.50 ________
Gravy Boat 25p £4.00 ________
Vegetable Dish 30p £5.00 ________
Oval Platter 30p £6.00 ________
Round Platter 50p £8.00 ________
Oblong Platter 50p £8.00 ________
Salmon Flat £2.00 £15.00 ________
Table Cloth 90"x54" £4.00 £20.00 ________
Table Cloth 108 x 70 £4.50 £25.00 ________
Table Cloth 86" x 86" £5.00 £25.00 ________
T/C Round 72" £6.00 £35.00 ________
T/C Round 110" £8.00 £40.00 ________
Linen Napkins £1.00 £6.00 ________
Tea Towel 50p £2.50 ________
Wedding Cake Stands and Accessories
Silver Square/Round £10.00 £250.00 ________
(Plastic) £8.00 £30.00 ________
Mahogany Round £10.00 £100.00 ________
Two Tier Mahogany £12.00 £150.00 ________
Three Tier Mahogany £15.00 £150.00 ________
Mahogany Square £10.00 £100.00 ________
Wedding Cake Knife £3.00 £35.00 ________
Bread Basket small 20p £1.00 ________
Bread Basket medium 30p £1.00 ________
Bread Basket large 50p £2.00 ________
Serving Trays 50p £4.00 ________
Cheese Board small 30p £5.00 ________
Cheese Board large 50p £12.00 ________
Glass flower Vase 30p/50p £3.00/£6.00 ________
Glass Candle Holders 40p £2.00 ________
Glass Ashtrays 30p £1.75 ________
Table Number 10p £1.00 ________
Champagne bucket £1.00 £20.00 ________
Stand £1.00 £25.00 ________
Stew pan £2.00 £40.00 ________
Tea Urn £6.00 £150.00 ________
Filter Coffee Machine £10.00 £250.00 ________
(Base and Gantry heating) £20.00 £700.00 ________
Chafing Dish inc. 2 fuel £15.00 £100.00 ________
Extra Fuel each £1.50 £1.50 ________
Fish Kettle medium £2.50 £40.00 ________
Fish Kettle large £3.00 £60.00 ________
Insulated Beverage Server £2.00 £20.00 ________
Gateaux and Cake Stand £1.50 £15.00 ________
Hire Charge £________ Delivery________________
Delivery £________ Telephone _____________
Deposit £________ Customer Signature
Total Cost £________ ____________________
15 Offham Road, West Malling, Kent, ME19 6RB
Please read the following conditions on booking hire items
All prices are for ONE DAYS HIRE ONLY, which includes collecting the day before and returning the day after. Additional charges will be made if items are not returned as specified.
Where delivery is required a charge is made according to distance and accessibility of the site.
The hirer is held responsible for the loss or damage to the equipment and containers hired including boxes, cartons and dividers during the whole of the hire period. All items lost or damaged will be charged for as per current price list.
Replacement items substituted by customers will not be accepted.
Goods at all times remain the property of Congratulations Catering.
No responsibility can be accepted for injury caused by the use or misuse of the equipment or for damage caused by the use or misuse of the equipment hired.
All items are clean and ready for use and must be returned clean and dry (except table linen). We reserve the right to charge for the cleaning of equipment returned in a dirty condition at 50% of the hire charge.
A washing up service is available if arranged prior to the booking at an extra cost of 50% of the hire charge.
Unless account facilities have been previously arranged, then a deposit is required in addition to the full cost of the hire and transport on the day of supply. The deposit, less any charges, will be refunded as soon as possible after checking. Payment may be made by cheque (with guarantee card) or by cash.
Unless customers notify us at the time of supply of any discrepancies in their order, then the company shall reserve the right to charge for quantity and conditions as per their "In House" controls.
ADEQUATE VENTILATION MUST BE PROVIDED AT ALL TIMES FOR COOKING AND HEATING.
IT IS RECOMMENDED THAT A POWER BREAKER RCD IS USED WITH ALL ELECTRICAL ITEMS
Please do not hesitate to ring us if we can be of any further assistance or if we do not list the item you require.
OFFICE HOURS FOR COLLECTION AND RETURN
MONDAY- FRIDAY 9.00AM – 5.PM
Floral table decorations Dinner Parties
Bouquets Children's Parties
Wedding Tiers Business lunches
Celebration Cakes Garden Parties
Waitress service Children's Magic